Europe is renowned for its rich history, stunning architecture, and breathtaking landscapes. It is a traveler's paradise that is renowned for offering an array of experiences, from sightseeing and shopping to dining and relaxation. With so much to see and do, it can be overwhelming to decide on the best way to explore the continent. But, one of the best ways to see Europe is by traveling by train. The benefits of traveling by train in Europe are many and the experience is truly unforgettable.
The Benefits of Traveling by Train in Europe
The first and foremost benefit of traveling by train in Europe is the convenience it provides. Trains run frequently and on time, meaning that travelers can reach their destinations with ease and without having to worry about traffic or parking. Trains also offer a more relaxed mode of transport compared to planes, allowing travelers to sit back, relax and take in the scenery without the stress and hassle of airport security.
In addition, trains offer a comfortable and affordable way to travel in Europe. With various classes to choose from, travelers can select a ticket that fits their budget, and enjoy comfortable seating, ample legroom and great views. Many trains also have dining cars, offering delicious meals and snacks, so travelers can dine in comfort while they enjoy the journey.
Exploring Europe by Train
One of the best things about traveling by train in Europe is the ability to explore multiple destinations in a single trip. Trains connect cities, towns and villages across the continent, so travelers can take in several locations in one trip. They can also stop off at any station they like, explore the local area and continue on their journey at a later time. This flexibility is not available with other modes of transport and is one of the reasons why traveling by train is so popular in Europe.
Another advantage of traveling by train is the opportunity to take in some of the most breathtaking views in Europe. From rolling hills and fields of flowers to stunning mountain ranges and rugged coastline, there is no shortage of stunning scenery to be seen from the train. Travelers can sit back and watch as the scenery unfolds before their eyes, taking in the beauty of Europe from a unique perspective.
Choosing the Right Train for Your Trip
When traveling by train in Europe, it is important to choose the right train for your trip. With a range of options available, from high-speed trains to scenic trains, travelers can select the best option for their needs and budget.
The high-speed trains in Europe, such as the TGV, Eurostar, and Thalys, are ideal for those who are looking to get from A to B quickly. With speeds of up to 300 km/h, these trains are fast and convenient, and offer a great option for travelers who are short on time.
For those who want to take their time and enjoy the journey, scenic trains are the way to go. These trains take a more leisurely pace, allowing travelers to take in the scenery and relax. Examples of scenic trains in Europe include the Bernina Express or Glacier Express in Switzerland and the Flam Railway in Norway.
The Experience of a Lifetime
Traveling by train in Europe is a great way to explore the continent's many countries and stunning landscapes. Whether you're looking for an exotic journey through Eastern Europe or a classic European rail adventure, there are plenty of ways to explore this beautiful region by train. With carefully planned routes, reliable connections and comfortable carriages, traveling by train in Europe can be a fantastic experience. In this article, we will outline some of the best ways to make your European rail journey unique and unforgettable.
Traveling by Train in Europe
Traveling by train in Europe is an experience like no other! With so many countries and cities to explore, a train journey is the best way to get around. From scenic routes through the Swiss Alps to high-speed connections between major cities, there are plenty of options for travelers who prefer this mode of transport.
For those seeking an economical solution, there are Eurail passes that allow passengers to travel on certain routes across multiple countries. Passes can be tailored based on length and region visited, allowing visitors to plan their route according to their needs. Additionally, certain passes provide discounts at local attractions and restaurants along the way!
For more adventurous travelers, there are private rail tours that offer an immersive experience with expert guides and luxury accommodation.
Popular Routes
Train travel is one of the most popular ways to explore Europe. Whether you're traveling across borders or just commuting between cities, trains provide a convenient and comfortable way to get around. But with so many routes available, it can be hard to decide which ones are the best for travelers. Here are some of the most popular train journeys in Europe that offer travelers an unforgettable experience. From scenic routes along the Mediterranean Sea to thrilling high-speed rides through Germany or Italy, there's something for everyone in Europe's rail network.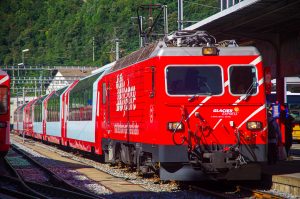 The Glacier Express from Zermatt to St Moritz
Benefits of Traveling by Train
Traveling by train can be a great way to explore the cities and towns of Europe without having to worry about the expense or hassle of air travel. Trains provide a more relaxed atmosphere for travelers, allowing them to take in the sights and sounds of their destination without having to worry about being cramped in an airplane. With plenty of routes available across Europe and beyond, there are several benefits that make traveling by train a great option for tourists.
The first benefit is convenience. By taking the train, travelers can enjoy a stress-free journey with minimal stops along the way, making it easy to get from one place to another quickly and easily. In addition, many trains offer direct services between major cities – meaning you don't have to waste time transferring or waiting around at stations like you would if you were flying.
Another advantage of rail travel is affordability.
Booking Tickets
Booking tickets for travel within Europe can often be an intimidating process. With a variety of tickets and discounts available, travelers may find themselves overwhelmed when attempting to book their journey. However, there are several tips that can help ensure the best possible experience when traveling by train in Europe.
One of the most important things to consider is booking as far in advance as possible. Advance bookings often offer significant discounts, making them ideal for those looking to save money on their travels. Additionally, using an online ticket platform such as Rail Europe can provide travelers with access to exclusive deals and promotions that aren't available elsewhere. This can make it much easier for passengers to find the right ticket at the best price for their journey.
Being aware of different rail passes is also beneficial when booking tickets in Europe.  Check out this for where to book tickes at research prices and more info.
Accommodations
Traveling by train in Europe is a unique and exciting experience that offers many advantages. Whether you are an experienced traveler or just starting out, making sure you have the right accommodations can make your trip even better. Here's what to consider when booking travel accommodations for your European rail journey.
When traveling internationally, it is always important to take into consideration the available accommodation options. Depending on your budget and where you plan to visit, there are several choices ranging from basic hostels to luxury five-star hotels located near railway stations. Different types of trains may also offer different levels of comfort with sleeping cars, first class cabins, or shared couchettes being some of the most popular choices. Researching what each has to offer will help ensure that you end up with the best option for your journey.
Rail Passes
Rail passes are a great way to save money and make traveling by train in Europe easier. Not only do they provide an affordable way to get around, but they also offer flexibility that comes with no need to book tickets in advance. There are several types of rail passes available for travelers, depending on their needs and budget.
The Eurail Global Pass is one of the most popular rail pass options for those who want to travel extensively throughout Europe. It gives passengers access to 28 countries across the continent, including France, Italy and Spain. This pass offers various levels of flexibility with availability ranging from 15 days within two months up to three months of unlimited travel. With this option, travelers can pick and choose destinations as they go without having to worry about booking tickets ahead of time or budgeting for individual trips along their journey. Here at this official website you can check out prices and learn more about the Euro rail passes available.
Tips for a Smooth Ride
Train travel can be a great way to explore the many sights and sounds that Europe has to offer. Whether you're heading to Paris, Milan or Berlin, taking the train is a convenient and cost-effective alternative to air travel. To ensure your ride is as smooth as possible, here are some tips for travelling by train in Europe:
First, it's important to purchase your tickets ahead of time. You can often find discounted rates when booking online or through an app on your phone – which also allows you to store digital tickets for easy access when boarding the train. Additionally, you may want to look into rail passes if you plan on visiting multiple
countries during your trip. These will give you unlimited access for a set period of time so you don't have to buy new tickets each time you board the train.
Here some travel guide book abpout traveling in Europe by train from Amazon.
For some more tips to travel by train in Europe enjoy this great selection of travel videos we add here as follows:
Error 403 The request cannot be completed because you have exceeded your quota. : quotaExceeded
Please bookmark us now press: ctrl+d and visit again soon for more fascinating travel destinations!