Greece is an amazing destination for vacationers and travelers alike. With its long history, incredible scenery, and mild climate, it's no wonder why Greece is a top tourist destination in Europe. From the vibrant capital of Athens to the tranquil Peloponnese peninsula, this beautiful Mediterranean country offers something for everyone. Whether you're looking to explore ancient ruins or relax on a beach, here are the top attractions in Greece that shouldn't be missed.
Exploring Greece
Exploring Greece is a truly unique experience. From ancient ruins to stunning beaches, this Mediterranean country is packed with attractions that draw in both locals and tourists alike. With some of the most iconic site-seeing spots in Europe, you won't want to miss out on all that Greece has to offer!
Greece's history dates back thousands of years and exploring the sites it has to offer often leads visitors down a path of discovery. Archaeological wonders like the Acropolis in Athens present an unparalleled glimpse into Ancient Greek culture, while other historical sites such as Mount Olympus give an insight into Greek mythology. In addition, there are plenty of cities and villages throughout the country offering a variety of cultural experiences as well as great shopping opportunities.
From its picturesque coastline dotted with beautiful islands to its vibrant nightlife scene, Greece promises something for everybody.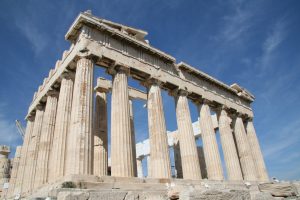 Acropolis: Ancient Ruins
The Acropolis of Athens is one of the most iconic ancient ruins in the world. Located on the top of a steep rocky outcrop, this group of monuments has been well-preserved for thousands of years, despite its age and turbulent history. The Acropolis was built between 447-438 BC as an architectural symbol to honor Athena, the Greek goddess and patron deity of Athens. The ruins have become an internationally recognized icon and are considered some of the finest examples of ancient Greek architecture.
Athens' famous citadel is home to numerous historic sites including temples dedicated to Athena, such as Parthenon, Temple Erechtheion and Propylaea; sculptures such as Nike Apteros; and other structures like Odeon Theatre. It also houses many artifacts uncovered during archaeological excavations on site that provide great insight into the glorious past of Ancient Greece.
Parthenon: Iconic Temple
The Parthenon is an iconic temple located on the Acropolis of Athens in Greece. Built in the 5th century BC, this ancient monument has become a symbol of Ancient Greek civilisation and is one of the most popular tourist attractions in the country. The building features distinctive marble columns and sculptures dedicated to Athena, goddess of wisdom and strategic warfare. Visitors come from all over the world to marvel at this beautiful structure, which serves as a reminder of Greece's rich history and culture.
Aside from its impressive architecture, visitors can also take part in guided tours where they are given insight into how it was constructed as well as its various functions throughout antiquity. There are also numerous interactive activities available for both adults and children, including educational videos that showcase archaeological discoveries made inside the temple itself.
Delphi: Seat of Oracle
Delphi, in Greece, is renowned as the ancient seat of oracle. It was once considered to be the center of the world according to myths and stories passed down through ancient Greece. This site located on the slopes of Mount Parnassus contains multiple prehistoric sites and provides a glimpse into Greek mythology and the past.
The archaeological site is still visited today by tourists who want to experience its rich cultural heritage. Visitors can explore various temples, monuments and other interesting attractions such as the Castalian Spring, Delphi Museum full of artifacts from ancient times, as well as Olympia Tholos – an impressive monument dedicated to Apollo, god of light. Not only will visitors have an opportunity to soak up some history but they can also enjoy spectacular views over stunning landscapes all around them.
Samaria Gorge: Natural Beauty
Samaria Gorge is one of the most stunning natural attractions in Greece. Located on the southern coast of Crete, this impressive 10-mile canyon is a popular destination for hikers and nature lovers alike. Its sheer cliffs, lush vegetation, and crystal clear waters make it an awe-inspiring sight to behold. Visitors can come to experience the beauty of Samaria Gorge year-round – though the best time to visit is during late spring and summer when temperatures are milder and more conducive to longer hikes through its trails. The hike itself takes about five hours, but no matter how long you stay you'll be sure to take away lasting memories of this unique landscape. And if you're feeling adventurous, there are plenty of other activities available here like horseback riding or swimming in the shallow coves along the canyon walls.
Meteora Monasteries: Spectacular Views
Greece is a popular tourist destination, known for its stunning views and historical monuments. One of the most beautiful attractions in the country is the Meteora Monasteries located in Thessaly, Greece. Perched atop natural sandstone pillars, these monasteries offer spectacular views that are sure to impress visitors from all over the world.
The monasteries were constructed by Eastern Orthodox monks beginning in the 14th century and remain an important pilgrimage site today. Though there are 24 monasteries total, only 6 are open to public access due to their deteriorating condition or lack of proper staff. Those who make it up to Meteora can explore the historic sites while admiring breathtaking views of lush valleys below.
Santorini Island: Picturesque Landscape
Santorini Island in Greece is one of the most picturesque landscapes in the world. With its white-washed villages set against a backdrop of deep blue waters, it's no wonder why tourists flock here year after year. The stunning scenery of Santorini makes it a much sought after destination for travelers seeking to explore and photograph stunning vistas. From Oia's famous sunset views over the caldera to Fira's traditional Greek buildings, visitors will be captivated by the beauty that surrounds them. Those looking for adventure can take a boat trip around the island or trek up ancient pathways to find breathtaking viewpoints along the way. Visitors can also spend their days relaxing on some of Santorini's many beaches and enjoy watching the sun dip below the horizon in the evening.
The Greek island of Samothrace
And here a special mention goes to: The Greek island of Samothrace is a must-see destination for anyone looking to experience the best of what Greece has to offer. Surrounded by stunning views, the island offers plenty of attractions and activities that will keep visitors entertained and active throughout their stay. From historic sites to picturesque beaches and mountain trails, there's something for everyone on Samothrace.
One of the most popular attractions on Samothrace is the Sanctuary of the Great Mistery religion and Gods, a UNESCO World Heritage Site located at the base of Mt. Saos. Visitors can explore its impressive ruins which includes two temples. The island also features a number of fascinating museums such as Archaeological Museum in Kamariotissa and Naval Museum in Alexandroupolis, making it ideal for art and history buffs alike.
Special events:
If you have a chance try to make this one:  TheAugust Moon Festival is a festival celebrated in Greece on the day of the full moon in August. This year 2023, it falls on August 1. This festival features concerts, theater and dance performances, poetry readings, stargazing and tours at dozens of archeological sites, museums and modern monuments across the country.
Here we add a collection of travel videos about Greece so you can go there at least in a virtual form right now or you can use those videos to plan your next trip  exploring where uur adventure might take you. Enoy!

Greece: Unforgettable Experience
The stunning landscape of Greece has provided visitors with unforgettable experiences for generations. From the breathtaking views of the Mediterranean coastline to the ancient cities and ruins that make up a large part of its history, Greece offers an array of tourist attractions unique to its culture and natural beauty. Whether you're looking for a romantic getaway or family vacation, Greece has something for everyone. The conclusion is simple: travel to this amazing country and have an incredible experience that will stay with you forever.
From the beautiful islands scattered throughout the Aegean Sea to vibrant city life in Athens, there's no shortage of activities and sights when it comes to exploring Greece. You can take a leisurely cruise between peaceful harbors or visit some of the most iconic landmarks in Europe such as the Acropolis, Temple of Apollo and Parthenon.
Please bookmark us now press: ctrl+d and visit again soon for more fascinating travel destinations!