The world is full of spectacular places to explore and the South Pacific is no exception. With its diverse array of islands, there are plenty of amazing tourist destinations throughout the region. From lush rainforests and crystal-clear waters to vibrant cities, the South Pacific offers a variety of options for the perfect holiday getaway. Whether you're looking for an action-packed adventure or a relaxing escape, these top tourist destinations in the South Pacific have something for everyone.
South Pacific Vacations
South Pacific Vacations are becoming more and more popular for travelers looking to escape the hustle and bustle of everyday life. From pristine beaches to exotic wildlife, there is something for everyone in this tropical paradise. Whether you're looking for an adventure or a relaxing getaway, these top tourist destinations in the South Pacific have it all.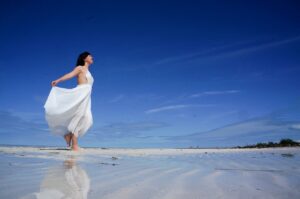 From the stunning natural beauty of Fiji to the lush rainforests of Samoa, each destination offers its own unique attractions. Whether you're interested in exploring ancient ruins or playing on white sand beaches, you can find something special here that will make your vacation unforgettable. Some travelers take advantage of their location by diving with majestic marine life or sailing across blue lagoons while others prefer simply soaking up some sun on a picturesque beach. No matter what kind of experience you're after, South Pacific vacations offer something for everyone! Here we list only a small selection of the islands you can explore see the travel videos below for more options.
Island of Tahiti
The Island of Tahiti is a popular tourist destination in the South Pacific and is part of French Polynesia. With its white-sand beaches, crystal clear waters, lush green vegetation, and vibrant culture – it's no wonder why visitors flock to this tropical paradise. Tahiti offers visitors a variety of activities ranging from relaxing beach days to exciting water sports such as snorkeling and scuba diving in the area's coral reefs. It also features some of the best waves for surfing on the planet. Visitors can explore many unique sites including Marae Arahurahu – an ancient temple, which serves as a reminder of the birthplace of Polynesian civilization. The island has exquisite restaurants serving both traditional Polynesian cuisine and international dishes. Accommodations range from luxurious resorts to cozy bungalows overlooking the sea – so there is something for every budget. More info on Thaiti here at this website and here at our website for travel videos from Thaiti.
Fiji Islands
Famous for its pristine beaches and crystal clear waters, the Fiji Islands are often at the top of many traveler's lists when it comes to the South Pacific. With over 300 islands to choose from, there is something for everyone in Fiji. Whether you are looking for a relax getaway or an adventurous vacation, the Fijian archipelago has you covered.
From snorkeling on some of the world's most beautiful coral reefs to hiking through lush rainforest trails that showcase spectacular views of nature, these incredible islands offer a wealth of activities. On land, explore traditional Fijian villages or enjoy vibrant nightlife scenes in cities like Nadi and Suva. In addition to its stunning natural beauty, Fiji also features plenty of cultural attractions such as museums and galleries with enlightening exhibits about local history and culture. More info on the Fiji island here at this website and here on our website for travel videos from Fiji.
Cook Islands
The Cook Islands are one of the most popular tourist destinations in the South Pacific, boasting spectacular beaches, coral reefs and lagoons. Located midway between New Zealand and Hawaii, this 15-island archipelago is a tropical paradise with plenty to offer visitors. For travelers looking for an idyllic beach getaway, the Cook Islands provide breathtaking vistas and a culture steeped in tradition.
Home to lush rainforests and crystal clear waters, exploring the islands' many attractions such as snorkeling at Aroa Marine Reserve or taking part in local festivals like Te Maeva Nui is an unforgettable experience. Adventure seekers can take advantage of diving opportunities or try their hand at fishing from a traditional outrigger canoe while on holiday here. More tourist info on the Cook islands here at this website.
Vanuatu
Vanuatu, an archipelago located in the South Pacific Ocean, is a popular tourist destination for travelers seeking an unforgettable and unique experience. With its crystal clear waters, traditional villages, and vibrant culture, Vanuatu offers plenty of activities to explore and discover. From swimming with turtles to discovering untouched beaches, there's something here for everyone.
This group of 83 islands is renowned for its beautiful mountain peaks that are perfect for adventurous hikes as well as volcanic lakes ideal for kayaking or canoeing. During your stay, you can also enjoy the relaxed atmosphere of local markets where you can purchase souvenirs handmade by the locals or try some delicious food. For those interested in diving and snorkeling, Vanuatu provides spectacular coral reefs and diverse marine life to explore beneath the waves. More info about Vanuatu here at this website.
Solomon Islands
The Solomon Islands are a nation of over 900 islands located in the South Pacific Ocean. It is known for its natural beauty and pristine beaches, as well as its rich cultural heritage and diverse wildlife. The Solomon Islands provide tourists with a unique opportunity to explore a tropical paradise that has remained largely untouched by commercial development.
The capital city of Honiara offers visitors an insight into the modern culture of the country, with bustling markets, fine restaurants, and plenty of local attractions to keep everyone entertained. From here it is easy to take a boat tour out to some of the surrounding islands where you can swim in crystal clear waters and snorkel amongst vibrant coral reefs teeming with marine life. More details and traven ionfo about the Salomon Islands here at this website.
New Caledonia
New Caledonia is a stunning archipelago in the south Pacific. It is known for its turquoise lagoons, white sand beaches, and lush forests. Located east of Australia, New Caledonia offers travelers an array of activities from scuba diving and snorkeling to kayaking and sailing. Its unique culture draws visitors to the islands each year.
The vibrant capital city Nouméa boasts delightful restaurants, charming cafes, and colorful markets. There are plenty of activities to enjoy within the city including exploring historical sites like La Place des Cocotiers or taking a stroll along Baie des Citrons beachfront promenade. The nearby Ouvea Island also makes for a fantastic day trip as visitors can take part in cultural events such as traditional dance performances or visit ancient archaeological sites. More info on New Caledonia here at this website.
Here we add some videos of those tropical island paradises so you may do at least a virtual trip tpo visit them or plan your next exciting vacation! 
The southern part of the Pacific Ocean is a paradise for beachgoers. From pristine white sand beaches to crystal clear waters, this region has something for everyone. Whether you're looking for an exotic adventure or just a relaxing getaway, the south Pacific can provide it all.
For those with an appetite for exploration, there are plenty of activities to keep you busy in this region. From snorkeling and scuba diving to exploring ancient ruins and local cultures, the opportunities are seemingly endless. Sun worshippers will appreciate the mild climate and never-ending sunshine that graces these islands year round. No matter what kind of vacation experience you're seeking, this area of the world can provide it! The best time to visit the South Pacific is generally between April and November when the weather is driest. But check with your destination for updated weather info before booking. See also this website for weather info or search here for location specific info.
You can also find South Pacific travel guides to order here at Amazon. See also this page here with travel videos from Samoa.
Please bookmark us now press: ctrl+d and visit again soon for more fascinating travel destinations!