Salzburg, Austria is a beautiful city full of history and culture. Located in the Alps, it is known for its stunning mountain scenery and unique architecture. Salzburg has been an important center for music and art since Mozart's time, making it a great place to explore! There are plenty of interesting attractions to visit while in Salzburg – here's a list of the top 10 tourist attractions in the area that should not be missed! Salzburg, Austria. Plus some of the top travel videos about Salzburg to be prepared for your vacation.
1. Mirabell Palace & Gardens
Mirabell Palace & Gardens is one of the top 10 tourist attractions in Salzburg, Austria. Located in the heart of Salzburg near the center of old town, this magnificent palace was built by Prince-Archbishop Wolf Dietrich von Raitenau in 1606. It features stunning Baroque architecture and landscaped gardens that showcase some of the most beautiful fountains and sculptures that can be found anywhere.
Not only is it a historical site but Mirabell Palace & Gardens also offers visitors plenty to do, from taking a guided tour through its many chambers to enjoying a leisurely stroll around its manicured lawns or admiring its lavish interiors. For those who have an interest in music and culture, there are concerts held here throughout the year as well as opera performances during certain times of the year.
2. Hohensalzburg Fortress
Hohensalzburg Fortress is one of the top tourist attractions in Salzburg, Austria and a must-see for anyone visiting the area. Located on a hill overlooking the city of Salzburg, this fortress dates back to 1077 when it was built by Archbishop Gebhard. The castle stands as an impressive example of medieval architecture and today visitors can visit various parts of the fortress including its old courtyards, dungeons, and living quarters.
The history behind Hohensalzburg Fortress is just as interesting as its architecture. It's said that during World War II, the Nazis used it for military purposes due to its strategic location high above Salzburg. Then after WWII ended, it was renovated and opened to tourists in 1892. Today visitors can explore all areas of the fortress either with a guided tour or independently.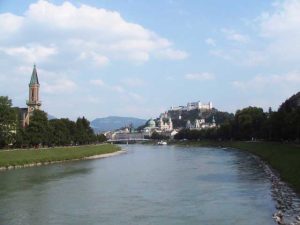 Salzach river in Salzburg, castle in the background
3. Hellbrunn Palace & Trick Fountains
Salzburg, Austria is home to some of the most beautiful and unique tourist attractions in all of Europe. Located just outside the city center, Hellbrunn Palace & Trick Fountains is an absolute must-see for any visitor. Established over 400 years ago by Prince Archbishop Markus Sittikus, this remarkable palace was built with a series of water-powered trick fountains designed to surprise and delight guests. Visitors to this attraction can explore the open-air theater, grottos, and gardens while experiencing the amazing sights and sounds created by these incredible fountains. The palace itself offers guided tours that allow visitors to learn more about its history and marvel at its intricate architecture and original furnishings. The gardens are also filled with unique sculptures, gazebos, hidden pathways and much more – perfect for a leisurely stroll through centuries worth of artistry!
4. Salzkammergut Lake District
The Salzkammergut Lake District is one of the most beautiful natural attractions in Austria. Located in the Salzburg region, this area is home to more than 76 lakes and almost 200 mountains, making it a popular destination for visitors who love outdoor activities such as hiking, biking, and swimming. The sprawling landscape provides an ideal backdrop for taking pictures that will capture your memories of this stunning area.
This lake district boasts a wide variety of attractions and activities ranging from boat rides on lake Wolfgangsee to relaxing spa treatments at Bad Ischl. Adventure-seekers can take advantage of zip-lining through the forest canopy or paragliding over the gorgeous scenery while history buffs can learn about its past with visits to Schloss Hellbrunn Palace or wander around Hohensalzburg Fortress. There's something here for every type of traveler!
5. Mozart's Birthplace
Mozart's Birthplace is one of Salzburg's top tourist attractions. Located in the heart of the city, this iconic landmark holds a special place for music-lovers everywhere. Built in 1747 by Mozart's father Leopold, the house has been recently restored to its original state and now features a museum dedicated to Wolfgang Amadeus Mozart and his family. Visitors can walk through its rooms and hallways while studying artifacts from Mozart's childhood such as scores, letters, paintings, instruments and toys. The museum also contains an interactive exhibition detailing the life of this great composer. From interactive displays to guided tours, visitors can experience first-hand what it was like for Mozart growing up in Salzburg while being immersed in his musical genius.
6. Getreidegasse Shopping Street
Getreidegasse Shopping Street is an enthralling shopping experience in Salzburg, Austria. Located in the heart of the city's historic old town, this charming lane is home to numerous boutiques, souvenir shops and artisan stores. A favourite destination for both tourists and locals alike, Getreidegasse offers something for everyone; from traditional leather goods to handmade clothing and jewellery. Most of the buildings are marked by beautifully painted 16th-century frescoes which lend a unique charm to the area.
Walking down Getreidegasse is a must whilst visiting Salzburg – it's one of the oldest streets in Austria with cobbled pathways that have been maintained since medieval times.
7. Salzburg Cathedral
Salzburg Cathedral is one of the most popular tourist attractions in Salzburg, Austria. Situated in the heart of Salzburg's old town, this splendid baroque cathedral dates back to 1628 and features a stunningly ornate interior. The architectural masterpiece boasts an imposing dome, multiple towers, and a vast nave with intricate frescoes, sculptures and paintings.
The highlight of the cathedral is its grand pipe organ built by Gottfried Federlein in 1723. Adorning its façade are 12 statues of saints crafted by Antonio Beduzzi and Johann Baptist Hagenauer in 1731-1733. Inside visitors can admire powerful paintings depicting religious scenes such as 'Ascension', 'Assumption of Mary' and 'Presentation'.
8. Salzwelten Salt Mines
Salzwelten Salt Mines is one of the top tourist attractions in Salzburg, Austria. Located just outside of the city center, the salt mine provides a unique look into how salt was mined throughout history. The mines are over 1,000 years old and host many fascinating sculptures carved from the rock walls. Visitors can take an elevator 800 feet below ground to explore different chambers and tunnels, which include a subterranean lake. As visitors journey through these magnificent caves they will be able to view artifacts like wooden carts used for hauling salt as well as more modern displays about how the mine works today. An audio guide is available for those who want to learn more about this historic site throughout their tour. The tour also includes plenty of time to enjoy the spectacular natural beauty that has been preserved since ancient times.
9. St Peter's Abbey
St Peter's Abbey is one of the oldest and most popular tourist attractions in Salzburg, Austria. Established in 696 A.D., this Benedictine monastery has stood the test of time and is still able to offer visitors a glimpse into Salzburg's rich history. Located in the heart of downtown, St Peter's Abbey is home to some of the most beautiful Baroque architecture in Europe and offers visitors a captivating view from its terrace overlooking Salzburg's old town. Visitors can take guided tours of the abbey as well as explore its museum which houses artifacts related to Salzburg's cultural heritage such as manuscripts, coins, weapons and furniture dating back hundreds of years.
10. Kapuzinerberg & Monchsberg Hills
Kapuzinerberg and Monchsberg are two of the most popular hills in Salzburg, Austria. These hills provide tourists with a great view of the city and its many attractions. Kapuzinerberg is located to the north-west of Salzburg's old town and offers stunning views of the Hohensalzburg Fortress, Mönchsberg Mountain, and even parts of Bavaria. The hill is also home to one of Salzburg's oldest churches, St. Peter's Monastery Church. Monchsberg Hill is located east of the old town and stretches up to 1,800 feet above sea level. From this hilltop, tourists can enjoy breathtaking views over all of Salzburg's landmarks as well as its surrounding countryside.
Google map of Salzburg Austria, click to expand
Salzburg, Austria is a beautiful city rich with culture and history. It's home to some of the most stunning tourist attractions in all of Europe. In this article, we've featured the top 10 tourist attractions in Salzburg that every visitor must experience. From world-famous landmarks like Hohensalzberg Fortress and Salzach River to unique sites like Mirabell Palace & Gardens and Mozart's Birthplace, each attraction is an unforgettable experience. Whether you're looking for adventure or relaxation, Salzburg has something for everyone. With this guide as your guide, you can make sure that you see all the best sights and enjoy the most memorable experiences during your visit to magical Salzburg.
Enjoy some of the top travel videos about Salzburg and be prepared for your adventure:
For more information on Salzurg, Austria see this page here at Wikipedia and here at Wikivoyage and this page hrere for more travel videos from around the globe.
Please bookmark us now press: ctrl+d and visit again soon for more fascinating travel destinations!