Travel Tips for Visiting Europe: Your Ultimate Guide
Are you planning a trip to Europe but feeling overwhelmed by the many countries and cities to choose from, not to mention the logistics of traveling around? Don't worry, we've got you covered! In this article, we'll share our top travel tips for visiting Europe so that you can make the most of your trip and create unforgettable memories.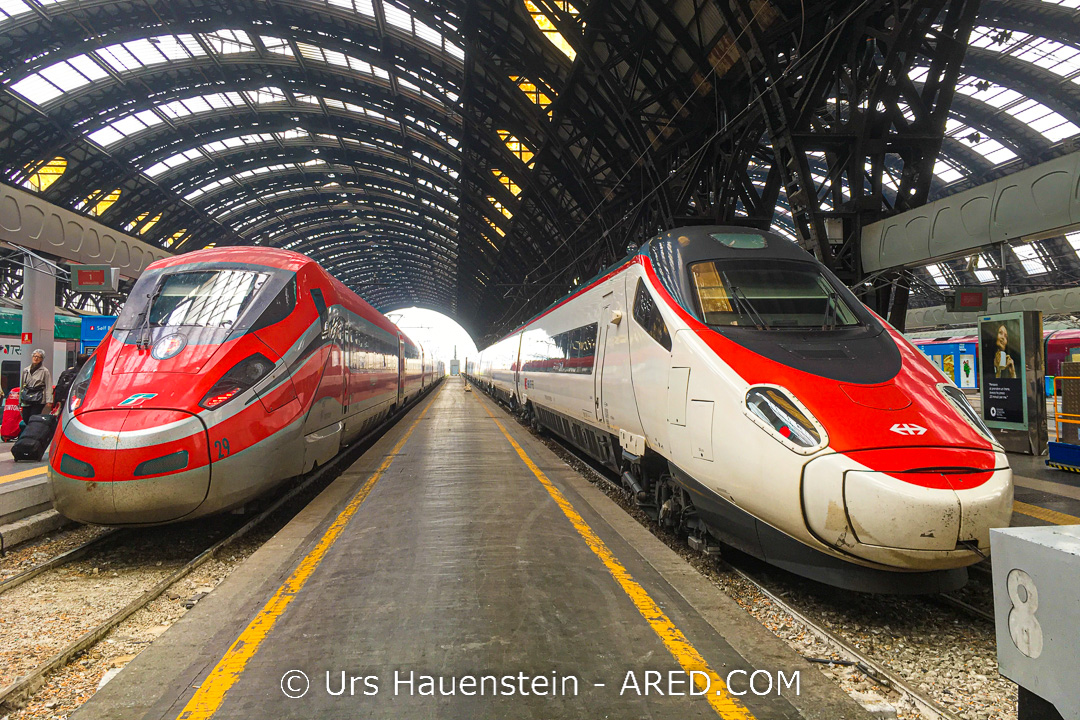 High speed trains in Europe
Getting Around Europe: Transportation Tips
Europe is well-connected with a variety of transportation options, from budget airlines to high-speed trains. Here are some tips to help you get around Europe efficiently:
Research transportation options in advance: Depending on your itinerary, it may make more sense to fly or take a train. Do some research ahead of time to determine the most convenient and cost-effective transportation for each leg of your trip.
Consider a Eurail pass: If you're planning to travel to multiple countries by train, consider purchasing a Eurail pass. These passes offer unlimited travel within a set time frame and can save you money in the long run. Please see this page here for more information on traveling by train in Europe.
Take advantage of budget airlines: If you're on a budget, consider flying with budget airlines like Ryanair or EasyJet. Be aware, however, that these airlines often charge extra fees for things like checked luggage and seat selection.
Use public transportation: Most European cities have excellent public transportation systems, including buses, trams, and metros. Consider using public transportation to get around cities and save money on taxis.
Also dont forget this option: Discover the top River cruises and explore Europe's most charming destinations along the Danube River, the Rhine or many other beautiful rivers for an unforgettable experience! And of course Cruising the Mediterranean is also a popular option
Accommodation Tips
There are plenty of accommodation options in Europe, from budget hostels to luxurious hotels. Here are some tips to help you find the perfect place to stay:
Book in advance: Popular destinations can book up quickly, especially during peak travel seasons. Book your accommodation as far in advance as possible to ensure availability and the best prices.
Consider staying in a hostel: Hostels are a popular choice for budget travelers and solo travelers looking to meet new people. Many hostels offer private rooms in addition to dormitory-style accommodations.
Look for unique accommodations: Europe has no shortage of unique and interesting places to stay, including treehouses, houseboats, and castles. Consider staying in a unique accommodation for a memorable experience.
Sightseeing Tips
Europe is home to countless historic sites, museums, and natural wonders. Here are some tips to help you make the most of your sightseeing:
Plan ahead: Research the top sights and attractions in each destination and plan your itinerary accordingly. Be sure to book tickets in advance for popular attractions to avoid long lines.
Take walking tours: Walking tours are a great way to explore a new city and learn about its history and culture. Many walking tours are free or low-cost and can be found online or through local tourism boards.
Get off the beaten path: While it's important to visit popular attractions, don't be afraid to explore off-the-beaten-path neighborhoods and sights. You never know what hidden gems you might discover.
FAQs
Q: What is the best time to visit Europe? A: The best time to visit Europe depends on your preferences and itinerary. Generally, the summer months are the busiest and most expensive, while spring and fall offer milder weather and smaller crowds.
Q: Do I need a visa to travel to Europe? A: It depends on your nationality and the countries you plan to visit. Check the visa requirements for each country you plan to visit well in advance of your trip.
Q: How much money should I budget for a trip to Europe? A: The cost of a trip to Europe can vary widely depending on your travel style, the countries you plan to visit, and the length of your trip. It's important to budget for transportation, accommodation, food, and sightseeing, as well as unexpected expenses. Here are some travel videos on vacation cost across Europe.
Q: What should I pack for a trip to Europe? A: Pack light and bring versatile clothing that can be layered for varying weather conditions. Comfortable shoes are a must, especially if you plan to do a lot of walking. Don't forget to pack adapters for electronic devices, as European outlets may be different from those in your home country.
Q: How to plan a vacation in Europe: Here we have a separate page that helps you to do just that and dont miss anything important.
Can I pay everywhere with Credit Card? well yes most places you can and here are some tips about credit card use on vacations, now its always recomended to have some cash on you for smaler items along the way.
Here are some fantastic off-the-beaten-path destinations in Europe, you might consider for a visit:
Kotor, Montenegro – This charming coastal town in the Balkans boasts stunning views of the surrounding mountains and a well-preserved medieval old town.
Bruges, Belgium – While not exactly unknown, this small city is often overshadowed by Brussels and Antwerp, but its picturesque canals and well-preserved medieval architecture make it a worthwhile destination.
Faroe Islands, Denmark – This group of islands located between Norway and Iceland offer rugged landscapes, unique cuisine, and a chance to see the Northern Lights.
Matera, Italy – This ancient city in the southern region of Basilicata is known for its "sassi," or cave dwellings, and was named the European Capital of Culture in 2019.
Sintra, Portugal – Just a short train ride from Lisbon, Sintra is a fairytale-like town full of palaces, gardens, and castles, including the famous Pena Palace.
Rila Monastery, Bulgaria – Nestled in the mountains of southwestern Bulgaria, this UNESCO World Heritage site is a stunning example of Orthodox Christian architecture and art.
Plitvice Lakes National Park, Croatia – This park is known for its crystal-clear lakes and waterfalls surrounded by lush forests and is a perfect destination for nature lovers.
Lofoten Islands, Norway – This archipelago located above the Arctic Circle is home to stunning fjords, dramatic mountains, and colorful fishing villages.
These destinations offer a chance to experience unique cultures and stunning landscapes, away from the crowds of more popular tourist destinations in Europe.
Here are a few more popular off-the-beaten-path destinations in Europe:
Cesky Krumlov, Czech Republic – This small medieval town in the southern part of the country boasts a well-preserved castle, picturesque streets, and scenic views of the Vltava River.
Zakopane, Poland – This mountain resort town located in the Tatra Mountains offers stunning views of the surrounding peaks and is a popular destination for hiking, skiing, and other outdoor activities.
Ronda, Spain – This Andalusian town is perched on a cliff overlooking a deep gorge and boasts beautiful views, ancient architecture, and a rich history.
Hallstatt, Austria – This picturesque village in the Salzkammergut region is known for its stunning alpine views, salt mines, and well-preserved prehistoric culture.
Sibiu, Romania – This medieval city in Transylvania boasts beautiful architecture, a vibrant cultural scene, and a rich history.
Skopje, North Macedonia – This capital city in the Balkans is known for its eclectic mix of architecture, with influences from Ottoman, Byzantine, and Communist eras, as well as a vibrant food and drink scene.
San Sebastian, Spain – This Basque city is known for its beautiful beaches, world-class food, and lively cultural scene.
Sighisoara, Romania – This well-preserved medieval citadel in Transylvania is the birthplace of Vlad the Impaler, the inspiration for Bram Stoker's Dracula.
These destinations offer a unique and authentic travel experience, with a chance to explore less-visited parts of Europe and discover hidden gems.
Europe is a diverse and exciting destination that offers something for every type of traveler. By following these travel tips for visiting Europe, you can make the most of your trip and create unforgettable memories. Remember to plan ahead, be flexible, and enjoy all that Europe has to offer. Also please see some more articles and travel videos from many destinations in Europe here at our blog. Bon voyage!
Please bookmark us now press: ctrl+d and visit again soon for more fascinating travel destinations!