South America is a continent full of vibrant cultures and beautiful landscapes, making it one of the most popular tourist destinations in the world. From its stunning beaches to its captivating jungles, South America has something for everyone. Whether you're looking for an adventurous backpacking trip or a luxurious beach getaway, South America offers a variety of options. This article will present an overview of the top ten travel destinations in South America that are sure to make your vacation memorable.
Travel in South America
South America is home to some of the most beautiful and diverse travel destinations in the world. From spectacular mountain ranges, exotic wildlife, and ancient ruins, South America offers travelers an unforgettable experience. Whether your idea of a perfect trip includes exploring colonial cities or venturing deep into the Amazon rainforest, you won't be disappointed by what South America has to offer. Here are our picks for the top ten must-see travel destinations in South America.
From Machu Picchu in Peru to Angel Falls in Venezuela and Torres del Paine National Park in Chile, there is no shortage of amazing attractions throughout South America that will keep any traveler mesmerized. For those looking to experience culture and history first hand, Lima is full of Incan artifacts while Argentina's capital city Buenos Aires offers a mix of both modern and colonial architecture.
In this article, we'll be exploring the top ten travel destinations in South America that offer unforgettable experiences to travelers. From Machu Picchu, Peru's ancient Inca ruins, to Iguazu Falls, Brazil/Argentina – these are some of the must-see attractions on any traveler's bucket list!
#1: Machu Picchu, Peru
Machu Picchu, Peru is one of the top ten travel destinations in South America. Located high up in the Andes Mountains, it is a breathtakingly beautiful Inca ruin that has captivated tourists from around the world for centuries. Considered to be an archaeological marvel, Machu Picchu was built by Inca emperor Pachacuti in 1450 and remained hidden for centuries until it was discovered by explorer Hiram Bingham in 1911. Today, visitors can explore its many wonders such as its iconic terraces, stone temples and plazas surrounded by lush forested mountains. It is also known for being one of the seven man-made wonders of the world and has been designated as a UNESCO World Heritage Site since 1983.
#2: Iguazu Falls, Argentina/Brazil
Iguazu Falls, located on the border of Argentina and Brazil, is one of South America's most beautiful and awe-inspiring natural wonders. These magnificent waterfalls span an impressive 2.7 kilometers across and stand at a height of 80 meters, making them an unforgettable sight for those who visit this incredible destination. With 275 individual cascades spread out across the Iguazu River, visitors can take in views of both sides of the falls as they experience its power firsthand. Whether you choose to view them from the Argentine or Brazilian side, Iguazu Falls are sure to leave a lasting impression on any traveler's heart. From boat rides that bring you up close and personal with thundering falls to helicopter tours that provide majestic aerial views, there are various activities available for tourists to fully appreciate this breathtaking site.
#3: Galapagos Islands, Ecuador
The Galapagos Islands of Ecuador might be the most well-known destination in South America for those who are interested in wildlife and nature. Located 600 miles off the coast of Ecuador, this archipelago consists of 19 islands and can only be reached by boat. It is known for its exceptionally diverse marine life, which has made it a popular tourist destination since Charles Darwin visited in 1835 and wrote about his observations in On The Origin Of Species.
The Galapagos Islands contain an array of unique creatures found nowhere else on Earth, such as giant tortoises, blue footed boobies, penguins and sea lions. Visitors can also explore the many hiking trails through these volcanic islands to discover even more animals like iguanas and frigatebirds.
#4 Rio de Janeiro, Brazil
Rio de Janeiro, Brazil is one of the most iconic cities in South America. Located along the breathtaking Southeast coast of Brazil, Rio offers endless opportunities for travelers to explore its vibrant culture, incredible attractions and diversified landscapes. From its stunning beaches to its beautiful mountains and lagoons, Rio de Janeiro is a destination that should be on everyone's top ten travel list. For more info and the top ten tourist attractions and must see's in Rio de Janeiro please see this page here.
The city has something to offer for everyone – from historical sites such as Christ the Redeemer statue and Sugarloaf Mountain to nightlife hotspots like Copacabana beach. Visitors can also dine in one of the many restaurants offering traditional Brazilian cuisine or take a tour through Tijuca National Park where they can experience some of Brazil's incredible wildlife up close. No matter what you're looking for, Rio de Janeiro has it all! And dont foreget the biggest parties in the world for Carnival and the New Years Party at Copacabana beach, that only in Rio.
#5: Cartagena, Colombia
Cartagena, Colombia is one of the top travel destinations in South America. It is a vibrant city with an interesting culture that blends Spanish and African influences. The colonial architecture and stunning Caribbean beaches make it a perfect destination for those looking to experience something new. Visitors to this historical city will be delighted by the many attractions available – from the cobblestone streets of the old town to its historic fortifications, there is plenty to explore.
The beaches are some of Cartagena's main draws, with golden sands stretching along miles of coastline. Relax on a beach lounger or take part in some water sports such as snorkeling or kite surfing – whatever your preference may be! Nightlife is also abundant here, so don't forget to check out one of the many bars and clubs for great music and atmosphere.
#6: Salar de Uyuni, Bolivia
Salar de Uyuni in southwestern Bolivia is one of the most stunning and unique travel destinations in South America. The world's largest salt flat stretches across 10,582 square kilometers of high plains in the Bolivian Altiplano, bringing forth some truly breathtaking landscapes. It is a surreal environment that looks like something out of a movie set and is ideal for photographers or adventurers looking to experience something extraordinary.
The thick white crust of salt covers much of the landscape and creates a mirror-like effect when it rains, turning Salar de Uyuni into one of South America's largest natural mirrors. Visitors can also explore large islands that appear during the wet season, such as Incahuasi Island which has over 2,000 species of cacti!
#7: Amazon Rainforest, Brazil/Peru/Colombia
The Amazon Rainforest is one of the most fascinating and biodiverse places on Earth, stretching through Brazil, Peru, Ecuador and Colombia. It's a must-see for any traveler looking to explore the wonders of South America. From its unique wildlife to its culturally vibrant cities, the Amazon has something for everyone.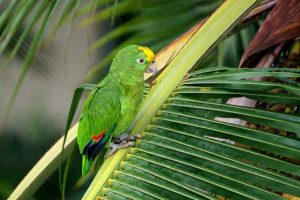 Home to an estimated 390 billion trees and thousands of species of plants and animals, it's no wonder that the Amazon Rainforest is often considered one of the most spectacular places in South America. With vast stretches of lush green rainforest canopy being broken up by winding rivers and dramatic waterfalls, visitors are sure to be mesmerized by its beauty. Furthermore, there is plenty to see in terms of cultural heritage with bustling towns providing travelers with insight into traditional lifestyles.
#8: Valparaiso & Santiago, Chile
Valparaiso & Santiago, Chile are two of the most popular destinations for travelers in South America. Valparaiso, a coastal city surrounded by hills and named a UNESCO World Heritage Site in 2003, is renowned for its brightly-colored houses, vibrant nightlife and unique urban culture. Meanwhile, Santiago is the bustling capital of Chile with plenty of modern amenities to explore. Its dynamic neighborhoods offer visitors colorful street art, world-class restaurants and lively music venues. From exploring the winding streets of Valparaiso to discovering historical sites in Santiago's downtown area, these two cities have something for everyone. Whether you're looking for relaxing beaches or an exciting nightlife scene – Valparaiso & Santiago are sure to impress!
#9 Quito, Ecuador
Quito, Ecuador is a top South American travel destination for many reasons. Located in the Andes Mountains and known as the "Middle of the World" due to its position directly on the equator, Quito offers an experience unlike any other. Quito has unique cultural attractions, including colorful markets full of delicious produce and handmade goods, as well as amazing architecture including churches with incredible frescoes. In addition to its unique culture, Quito also boasts spectacular natural beauty such as breathtaking views of nearby volcanoes and a staarting point to visit lush rainforests. For those looking for a wide variety of activities in one destination, Quito is just what they need! Visitors can explore ancient ruins or take part in outdoor adventures like hiking or white water rafting. With so much to see and do, it's no wonder that Quito is a popular stop on South America travel itineraries!
#10 Buenos Aires, Argentina
Buenos Aires, the capital of Argentina, is one of the top travel destinations in South America. As a major city and cultural hub, it's no surprise that it's at the top of many people's list when visiting the continent. From its energetic nightlife to its mouthwatering cuisine, there are plenty of things to do and see in Buenos Aires.
The city is well known for its delicious steak and authentic Italian cuisine. You can also explore some of Buenos Aires' unique neighborhoods like San Telmo or Palermo. Here you'll find beautiful architecture, boutique shops with local artisans selling their goods, and lively street markets where you can find great deals on souvenirs and gifts. Then each night, check out some of Buenos Aires' most popular bars or dance clubs for an amazing night out!
Conclusion: Explore South America!
For those looking for a classic travel experience in South America, the top ten destinations are sure to fit the bill. From ancient ruins to vibrant cities and stunning landscapes, these spots make up some of the most diverse and beautiful areas on earth. The culmination of this journey is an exploration of South America: a place where adventure awaits around every corner!
Venture into the world's longest mountain range, hike through lush rainforests or explore bustling cities filled with culture and history. With no shortage of exciting sights to see and experiences to have, it's easy to get lost in all that South America has to offer. Whether you choose one destination or all ten, there's sure to be something unique and remarkable awaiting your arrival. For those who want an unforgettable journey full of discovery, South America is undoubtedly the perfect choice! In addition here you may enjpy some of the best travel videos from and about South Americas travel destinations. So start planing and enjoy the virtual tour:
Please bookmark us now press: ctrl+d and visit again soon for more fascinating travel destinations!